Sudbury homelessness researcher questions city councilor camp strategy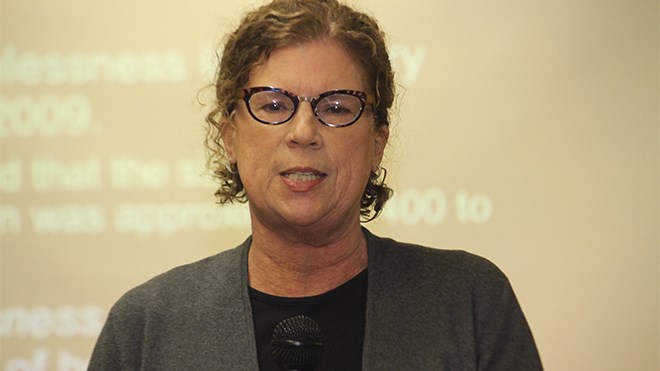 Consultant Iain De Jong to present to Greater Sudbury City Council again this evening
Sudbury homelessness researcher and advocate Carol Kauppi said the document created by the homelessness consultant hired by the city was lacking in information and did not respect the rights of the homeless.
In response, Iain De Jong, the consultant hired by the city, told Sudbury.com that he created a guide, not a report, and that he believed he had included everything the guide needed, especially with the time constraints imposed by the homelessness crisis.
This, and the right to public spaces belongs to the whole community.
De Jong was brought in to help the city develop a plan to deal with the city's encampments.
He presented the guide to the board on October 12, and the board will continue to discuss the issue at the meeting tonight (October 26).
The 44-page Greater Sudbury Encampment Response Guide provided by De Jong details what he believes to be the issues that cause and exacerbate homelessness in Sudbury, followed by two sections: Mitigation, detailing the services and tasks to be done. accomplish when engaging with "a homeless person living in a camp" and closure, detailing the app and service offerings to "help people when a camp experiences a voluntary or emergency closure".
In an interview with Sudbury.com, Kauppi, a Laurentian University professor and researcher who has specifically sought to understand homelessness in Northern Ontario for the past 20 years, said she was shocked by several elements of De Jong's report.
From the disconnect between the preamble and the actual plan, the lack of information regarding literature reviews and methodology, as well as aspects of the document that are universal – not specific to Northern Ontario, Kauppi told Sudbury. com, "I have no idea how the information was gathered for this report, and this is a major concern as it does not indicate a systematic review of the published literature and the local population."
Although Kauppi praised the early parts of the guide, she believes there is a disconnect between that and the response provided by the encampment.
"There was a contradiction between a lot of this good information and the actual steps Sudbury should take to manage the camps," Kauppi said. "It is as if the consultant does not know how to translate the information on the structural causes of homelessness into a progressive way of dealing with the settlements.
She said a basic underlying principle in published literature on camps is that housing is the solution.
"In the context of the pandemic, many people have lost their homes and become homeless," Kauppi said. "What we need to do now is create more affordable housing. People generally don't want to live in camps.
She also feels that more emphasis should have been placed on connecting with those who have had an experience, something she found valuable and a step now mandated by the federal government as part of
the report of the United Nations Special Rapporteur on the Right to Housing, "A Human Rights Approach: A National Protocol for Homeless Camps in Canada (2020)".
This report presents a mandate to engage with people with lived experience in the camps, and says that it is essential that these people are seen as experts in their own lives.
Kauppi thinks there should be someone with lived experience as part of the intervention table created by De Jong's guide, which currently consists of a local intervention leader, a leader of street intervention, a head of native service provider, a head of operations and a head of public security intervention.
Kauppi also challenged the requirement for homeless people to provide personal information to outreach workers as part of service provision; information they may not wish to provide, and not to a government or authority.
Responding to Kauppi's criticism, De Jong told Sudbury.com that it was first and foremost a guide he created, and that's not just a semantic argument for him. For De Jong, a guide is written and presented in a very different way than a report.
As for the methodology, De Jong said he volunteered to come to Sudbury and offered an assessment at no cost or wait. De Jong told Sudbury.com in a previous interview that he was contacted privately by a local nonprofit and asked to assess the situation.
"I proposed to come to the community at the end of August, to spend part of a day alone to see the camps, to spend a full day with the outreach team, to spend half a day with the regulation and spending time with the Greater Sudbury Police Service. on their commitments, "said De Jong.
He said he met with city staff to "gather basic information on the state of homelessness in the city" and met with service providers about pressure points in the system, the effects of COVID-19 and any new initiatives underway. He then offered his observations, and the city hired him to complete the Greater Sudbury Encampment Response Guide.
De Jong said his consultations, in addition to his vast knowledge in the field, are more than sufficient, adding that other cities and jurisdictions cite the work of De Jong's firm, OrgCode Consulting Inc.
"We're one of the key response resources, so the greater city of Sudbury hasn't had to pay for a learning curve.
De Jong said the team is familiar with "almost 30 years of Housing First studies," and although he notes that there is not much published theory or literature on housing first management. camps, he continually updates his knowledge and is regularly invited to meetings with "high-level political decision-makers".
He said this puts OrgCode at the forefront of the camp's response.
"I would say the on-site investigations were thorough, our access to information and the current state of roaming and response was deep, the understanding of the main streams of thought and practice is deep, and I would say our understanding of the literature is deepened. "
De Jong agrees that the solution to homelessness is housing and believes Kauppi may have misunderstood the guide.
"I think the teacher hasn't read the guide or doesn't understand," he said. "I believe the guide is consistent in saying, based on all the conditions in the local Greater Sudbury context, that the solution to camps is intensive support and housing response.
In terms of primary research with those who live in encampments, De Jong said it was not only outside of what he was asked to do, but for him it was not an appropriate initial response. .
"The start of this process, what we wanted to do is hear from the people who provide the direct service and the day-to-day interactions," De Jong said. "It would be totally unethical of me to introduce myself and ask people to repeat their story that they have already told to a outreach worker when I can get the summary of the main topics the outreach workers are dealing with. are confronted, their experiences as well as by law, police and other community stakeholders, as well as shelter providers.
The next step in terms of accessing specific means is the next step in the guide, De Jong said. "The phenomenal amount of work that outreach services and other community institutes will have to do to better understand the specific needs of each person in order to find a solution to their homelessness based on the specific needs of the individual. "
But that said, De Jong said he has had conversations with those open to discussion. "What I can absolutely say, unequivocally, is that these conversations highlighted the very simple things that other stakeholders had already told me based on their experience."
De Jong said if the city wanted him to do individual research, he would be happy to do so.
"If the city and community wanted me to do one-on-one research and interview each person with lived experience, I absolutely would. And that would be very expensive. "
De Jong said that given the amount of time and attention that would be required and the urgency with which the city would like to respond to the problem, he felt it was more appropriate to use existing information and complete as the process progresses. He said engaging with those who have had an experience is at the heart of "the litany of projects we've worked on," and that some of those projects will soon be highlighted at a conference hosted by the Canadian Alliance to End Homelessness.
"We understand when a project lends itself to having to engage with people with lived experience to get primary information," De Jong said. "And when we can, as in the development of this guide, we rely on resources as a starting point. "
Regarding Kauppi's issues with sharing information required for the service, a coordinated access list, De Jong says the issue should be addressed by the federal government as it is part of the Build for Zero program. Canada mandated by the federal government and that service providers in Ontario are required to maintain this list. "If the professor has a problem with this policy, she should discuss it with other levels of government, not with the municipality. "
De Jong adds that he did not see the need to "write pages upon pages of our expertise in this area." He added that anyone who has researched his work and the work of OrgCode would see what it can offer.
"Then you have to go to the place of solutions," De Jong said, and talks about Housing First mandates, which is a government-mandated policy to secure supportive housing before treatment. for any problems is required.
"If the professor isn't familiar with the Housing First literature, I think it can be easily shared with her," De Jong said. "And if she believes in something different than ending homelessness through housing supports, then I'd like to see the scholarship supporting an approach that is not focused on resource-based solutions."
De Jong said he also contacted Kauppi to discuss his concerns, but has yet to speak to him.